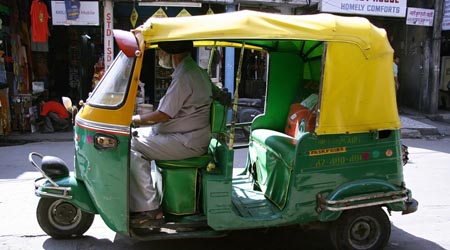 As per Pune Bus Pravasee Sangh every month more than 18000 vehicles are registered(meaning in a year more than 200,000 new vehicles). If we continue with this present scenario then our Urban Transportation scene will become Unsustainable.
By 2051, the population of India is expected to be 1.7 Billion. The number of cities with population more than 50 Million will more than double,15 cities with population in excess of 10 Million each and 85 cities with population between 1-10 million each. A recent study by India's Ministry Of Urban Development (MOUD) indicates that daily trips

in the top 87 urban centres are anticipated to

more than double from 228 to 482 million in

24 years (2007–2031).
See the Magnitude of Challenge that our cities will Face in years to come.
To curtail this organic growth in Urban transport and to promote Sustainable transport,Indian Government has taken some measures.
Development of National Urban Transport Policy
-> Equitable distribution of road space with People,rather than vehicles as Main Focus.
-> Encourage greater use of Public Transport by creating awareness about it through programs such as Bus Day or so. Also, promoting Non Motorised way of road transportation.
-> Reduce pollution through changes in Travel habits of people and reducing the number of Non Essential trips that people male of a regular basis.
Initiated Ambitious Capacity Building Program
-> Aim is to provide Professional support in order to Upgrade the existing Urban Transportation Skills and Institutional skills.
-> Setting up Knowledge Management centers with more than 2500 per city staff trained in Urban Transportation.
-> Development of National Codes and Ethics of Urban Transportation and development of National level Consultancy framwork and institutions.
-> Arranging safety certifications of Guided Urban Transportation Systems.
Improve Road and Rail based Mass Transport Systems (MTS)
MTS are backbone of the city Public Transport systems. Nearly 100km of MTS is operating in Delhi with 250 km of Metro under construction in 5 Major cities.
Bus Services - In the city of Mumbai busses reportedly account for about 40% of the total vehicular trips in the city. In Kolkata and Chennai nearly 80% of trips are reportedly operated by buses. However, such services are limited to just 10-15 cities in India,services crippled due to Subsidised Services and poor financial performance. In order to improve the Bus services Government has sanctioned under JNNURM nearly 16000 Buses to the 63 JNNURM cities. To make the services financially viable,cities have been mandated to develop policies on parking, advertising, Transit Oriented Development (TOD), set up an Urban Transport Fund, waive or reimburse state and local taxes on PT.
Emission Norms - Bharat stage IV has come into effect from 1st April 20110 in 13 cities. Emission levels of CO2 hs been tightened, 2 stroke engines are being replaced by 4 stroke engines and excise duty on Big cars and SUV's has been raised by 2%.
Quality of Fuel - Leaded petrol has been completely phased out, Sulphur content in Diesel has been reduced to 0.05% with effect from March 2001, CNG is emerging as an attractive alternative due to its clean burning characteristics.
Initiated Demonstration Projects with Global Environment Facilty (GEF)
-> The projects have two main components that are National Capacty Building Initiative and Demonstrate Urban Projects in Five major cities.
-> Train and mentor more than 500-600 individuals with Sustainable Urban Mobility principles and equip them with toolkits to develop Knowledge Management Centers.
-> Implement Rapid Bus transport system, Non Motorised Vehicle Transport system and Intelligent transport systems in selected cities in India.
Expected benefit at the end of the project is a paradigm shift in the way Urban Mobility systems are planned and managed in India.
As these Sustainable measures are being implemented the following objectives are now being addressed -
1. Reduce Transport Contribution to Climate change and improve its resilience.
2. Support Economic Development and Socio-Urban Viability.
3. Development of Compact Cities so that it is NMT friendly and the PT system is essentially Point to Point.
4. Development of Comprehensive Mobility Plan for the city in order to address mainly 3 groups of Urban Transportation - Modes of Transport, Infrastructure Building and Related activities.
5. Public transportation network should be city wide, Integrated and Multi Model.
Thus India is moving in the right direction towards Sustainable Urban Transportation.
1.http://lokayat.org.in/wp-content