In 1999, Space Solar Power Exploratory Research and Technology (SERT) was initiated by NASA and the Department of Energy in USA. The project

went about developing a solar power satellite (SPS) concept for the future

space power stations, to provide electrical power by converting the Sun's energy and beaming it to Earth's surface. The design consists of three main elements - Power Collectors and Convertors ( Solar Panels),Power Transmitters ( Lasers or Microwaves) and Receivers and Storage.
Key Advantages for such Power Plants are -
A single square yard of solar cells in space can account for the energy usage of a three person family.
The energy can be collected even in Dark which amounts to 24hrs o
f Sunlight on a daily basis.
Weather blocks sunlight to such an extent that at 25km from from Earth, the Sun is 25% stronger and at 100km from Earth, the Sun is upto 40% stronger.
Hence, by putting Solar panels in space at around 36k feet preferably at Geo Stationary orbit all these advantages can be realized.
Analytic-al Experiments suggest that a 1km band of Solar Panel satellites orbiting the Earth at the Equator could provide Energy Equivalent to all known remaining Hydrocarbon reserves in a SINGLE YEAR.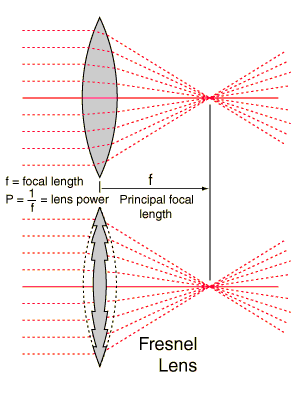 Power Collectors and Convertors -
Fresnel Lens a kind of Solar Concentrators are used to boost the effectiveness of the solar cells up to 8x times. Such lenses
are much thinner, larger, and flatter, and capture more oblique light from a light source,than a normal lens.
Also, usually Photo Voltaic method of power conversion is preferred rather than Solar Dynamic method. The Solar Dynamic method uses Mirrors to converting light to electricity whereas the Photo Voltaic method uses Semiconductors to convert light into Electrical Energy.
Transmitters -
It has been demonstrated through experiments that approximately 30Kw of power over a distance of 1 mile can be safely transmitted,with an efficiency level of 84%,by Microwaves. Also, as more than 95% of the beam will fall on the Receiver, t
he remaining microwave energy will be absorbed and dispersed well within standards currently imposed upon microwave emissions around the world.
Receivers -
The Earth-based r
eceivers
will consist of many short dipole
antennas connected via d
iodes
. Microwaves broadcasts from the satellite would be received in the dipoles with about 85% efficiency.
Such Receiver Antennas -' Rectennas' will be multiple kilometers across.
A Video explanation of Orbital Power Plants - By Project Earth