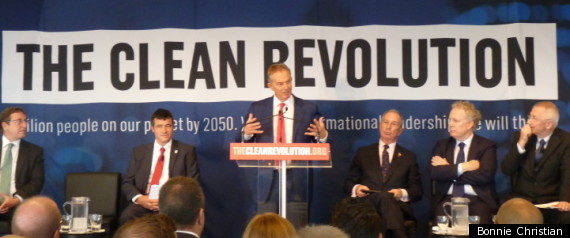 Image -
huffingtonpost.com
What is the Green Revolution of the 1970-80's in India,is what the Clean Revolution of 2011-12 is expected for the World.A massive upscale revolution for Green Energy and Infrastructure.
A change in technology to improve efficiency and use of natural resources. A process to create green jobs, boost Eco-economic growth, and secure a better, more sustainable future for all.
The Clean Revolution campaign was initiated on September 2011, in New York. Michael Bloomberg,
Tony Blair,
and other international government and business leaders have joined and pledged their support for the mission. The campaign will be formally launched during the Earth Summit in Rio, in June 2012.It
will inspire Green Leadership, highlight the opportunities and empower the world's decision- makers to take action on the low carbon economy.
To emphasize the emerging face of the Revolution, an initial set of eight success stories, inspired by Green leadership, have been selected to be case samples at the Rio Summit. These stories cover a diverse mix of businesses and governments:
Better Place
,
BT Group
,
IKEA
,
Suzlon
and the governments of
China
,
Scotland
,
South Australia
and the
City of New York
. All of these projects are working to reduce carbon emissions, improve energy security, and create new Eco-Business models.
Image-
value-picks.blogspot.com
Suzlon Represents the Indian Green Brigade
Suzlon has its global headquarters powered 100% by renewable energy in Pune inthe state of Maharashtra,India. It manufactures and maintains turbines as well as operate its own wind farms. The firm has transformed from a start-up in 1995 to a major multinational, employing 13,000 people and operating facilities in North and South America, Asia, Australia, Europe and Africa. More than 80% of it's business's sales are outside India.
Some of the Goals of Suzlon are
- Install Over 40GW of Wind power in India by 2022.
- To stay at top of the competition in the Wind power sector(current position is 5th Overall- World Wind Power Rankings).
-Help India to get over 25% of its power requirements from Wind Energy.
As the DNA of Sustainable development evolves the nature of our Economies and Financial Developments, success stories such as that of Suzlon,point us to a new personal and organizational value. Such value system integrates business competitive advantage, social development and financial advancement on a Green platform. Thus,inspired leadership can make the world a better place for all of the mankind.